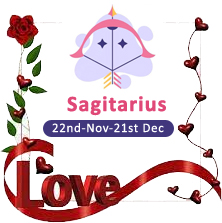 Sagittarius Love Weekly Horoscope will give good insight in your love life whether you are single or attached. Archers are determined to shoot anything down if they want. Find out what should be your goal for this week in romance. Archers will love to see where they can act. Find Sagittarius Love this week to get the idea about every opportunity in Love.
Sagittarius Love Weekly Horoscope 29 May 2023 – 04 June 2023Sagittarius Love Weekly Horoscope for Single
Cruise out for tasty food and conversation as the week begins. Relax and enjoy the good vibrations. Your charm and magnetism are strong now, allowing you to shine in social situations. Is an older relative throwing the proverbial weight around and telling you what to do? There may be difficulties with romance or recreational activity. Talk is needed. Get old problems out in the open. Revive a creative endeavour. Some of you may get the green light for grants and loans you have applied for. Your sex life is set to improve, so expect extra tenderness. You're intrigued by what you can learn from them, so you'll instigate some wide-ranging conversations. The weekend sees action at the local. Eligible Archers may meet a soulmate from the distant past. Yum!
Sagittarius Love Weekly Horoscope for Attached
Study, travel, legal concerns or the far horizon will feature as the week begins. Talk about the future. A foreign meal will be the fare to get you thinking and put it all in perspective. Dealings with money men fill the midweek. You'll have to be on your mettle and do what's required. There may be a clash over lifestyle or children. Catch up with the romantic side of life with your love. Don't wait for an occasion. Make one. It's a very lucky time for you. Your inner vitality and self-image thrive. You acquit yourself with pride and may find yourself quite an enthusiastic entertainer or host. Social events, such as banquets and other formal affairs in which you participate are apt to be joint ventures. Such activities may be held in your honour, or in honour of the efforts of a partner or other allies, superiors and other authority figures. Express your feelings, for smoother personal relationships and easier interactions with most people are in the air on the weekend. Take advantage of this atmosphere to establish better rapport or discuss problems. It's a good day to socialize, especially at home. Invite your boss, or those with influence, home for dinner.
Transit of Venus in Cancer – 30 May 2023 | Mercury retrograde in Aries – May 15, 2023 | Sun Transit in Taurus – 15 May 2023 |
Monthly 2023 horoscope
Sagittarius Weekly Horoscope | Sagittarius Weekly Love Horoscope | Sagittarius Weekly Career horoscope | Sagittarius Weekly Health Horoscope | Sagittarius Weekly Tarot Horoscope
Other Horoscopes
Free Daily horoscope | Free Monthly Horoscope
Sagittarius Love Weekly Horoscope for Single
Although close friends create a sweet start to the week for the single Archer it's a strange week, especially where relationships or money matters are concerned. It may be difficult to see where you stand or how you're doing. The wider view is something of a kaleidoscope that confuses the issues with a lot of colours and bits, especially under the Scorpio Moon towards the end of the week. However, after a bit of soul-searching, the tone picks up on Saturday, as the mystic Moon moves into your sign. What seemed dark will suddenly become light! Cruise along and it'll all come right, bringing the sweet taste of good food, love, and tasty companionship. A blast from the past may brighten your weekend under the amazing display of the Geminid meteor shower.
Sagittarius Love Weekly Horoscope for Attached
Lie low and enjoy something wicked with your loved one first up. A delicious fantasy will spice up life in the boudoir. Get into sync with your loved one and dance to the music, doing the things you both enjoy. Get horizontal and steamy! Don't be surprised if an unexpected bill or an overdue account sends a cheerful reminder of the importance of good financial practice. However, you can wave that away for the weekend and enjoy an exotic adventure with your love, venturing out into the big wide world or just into the wild. Watching the beautiful Geminid meteor display on Saturday or Sunday night (perhaps from a tent in the wilderness) will stir exotic fires from the cosmic depths of love for the two of you!