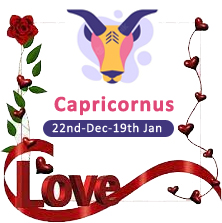 Capricorn Love Weekly Horoscope will give good insight in your love life whether you are single or attached. Steady and committed Capris step back from hurt and pain. Find Capricorn love and romance overview to find what love has in for you. Ambitious Capricorn will always love their future because they are sure no matter how their present is they have the power to change the future. Get your weekly love status so that you can reach your dreams.
Capricorn Love Weekly Horoscope 25 September 2023 – 01 October 2023Capricorn Love Weekly Horoscope for Single
Exotic contacts and tasty food get the week moving. Professional people and a legal matter or a study concern may be in the frame. Increased interactions or travel with children are in the frame, especially children that are not biologically yours but for whom you have responsibility. Activities such as fundraising, membership drives, or newsletters may be on your agenda. You may form a new professional relationship or take on a new obligation. It's a sociable weekend, so plan to hang out with friends and associates. Love is in the air. Important actions affect your future and your efforts will gain public attention one way or another. Being in the limelight will make you more attractive, so keep your eyes and ears open. Your more or less public actions may be carried out on behalf of another person, or a cause in which you believe. You may do a lot of extra work with your boss, the government, or those with comparable authority.
Capricorn Love Weekly Horoscope for Attached
You may meet with academic, professional or foreign people. An exotic contact may give you a lift or a grasp of the bigger picture. Mix with people and learn what's on offer in the world. This is a good time to examine your plans for the future in an unbiased way. What are your hopes and dreams? Are they influenced by the values and ideals of friends or groups that you belong to? You'll enjoy communicating with friends, sharing ideas and exchanging stories and sexual fancies. Your public profile will stand out, so make sure your reputation remains in good stead with important figures. You may deal with someone in authority or with the public because of a change of responsibility or duty. You will display tremendous drive to succeed in your domain — and will do just that, providing you don't step on your employer's toes by being over-the-top with your demands and actions. Others may feel vulnerable to your bold approach. You may prefer to take control, show leadership, or work for yourself in establishing a career path. The weekend sees time with friends and loved ones, enjoying their company and socializing.
Do's and Don'ts of Shradha 2023 | All about Pitru Paksh 2023 and Shardh 2023 | Pitru Paksha 2023 / Shradh 2023 |
Other Weekly Horoscopes
Capricorn Weekly Horoscope | Capricorn Weekly Love Horoscope | Capricorn Weekly Career horoscope | Capricorn Weekly Health Horoscope | Capricorn Weekly Tarot Horoscope
Other Horoscopes
Free Daily horoscope | Free Monthly Horoscope
Capricorn Love Weekly Horoscope for Single
Single
The week kicks off with you in the public eye, so get friendly with Those Who Count. You might be surprised at who's interested in a bit of nookie behind the filing cabinet! However, it's best for the single Sea-Goat to keep the lines of communication open throughout the week. Though there's some weird and wonderful stuff going on with love or money, most of it won't make sense, so don't make errors of judgement, especially through impulse. Stick close to friends midweek and sort whatever needs it from the Scorpio Moon, when your hopes and dreams get a boost through friends. You might be nursing a wounded ego on the weekend. Focus on rest and recuperation. Someone around you may be a source of irritation, probably because of something they want or expect that you can't or won't provide. On the bright side, it's just the time to sleepover with a friend and get up early to view the glorious Geminids, the cosmic treat of the month.
Capricorn Love Weekly Horoscope for Attached
Though you may not feel certain or assured about where you're going, talk things over with your love and set new directions. Keep a weather eye on the far horizon or future possibilities, as the Sun in Sagittarius sets an adventurous tone. Friends or social contacts feature midweek, but even that might leave you uncertain. It's only a matter of time, so let things pass until the weekend. Sink back into a little wicked decadence with your love or take some quiet time to restore. That way, you'll be ready to spice up life on the weekend under the delightful Geminid meteor shower with delicious food and TLC. If you have to deal with a fiery female on Sunday, wear your oven mitts.