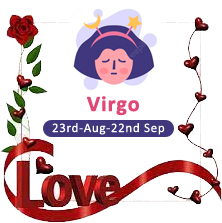 Virgo Love Weekly Horoscope will give good insight in your love life whether you are single or attached. Love or life, Virgos want perfection. Find whether Virgo love life is going to be a perfect one this week. Your judgmental nature and perfectionism makes you the one of the good planners in the zodiac. Find your weekly Love horoscope so that you can plan it ahead.
Virgo Love Weekly Horoscope 05 June 2023 – 11 June 2023Virgo Love Weekly Horoscope for Single
Vigorous action will help to sweat off irritation, promoting startling insights as to what's going on in your life. If you are looking and someone catches your eye, invite them over for a coffee at your place, and see what happens next. Oooh. New ideas or schemes will flow on the weekend from discussion with friends or a new interest or project will develop through new contacts. Keep your aerials out for romance is on the airwaves. Prepare for a new activity or an end to an old one.
Virgo Love Weekly Horoscope for Attached
A sexual encounter is by no means out of the question, so butter up the desires of your love. Spend time together between the sheets, as home is where the heart is. Give the midweek over to life with your love, doing the things you both enjoy. Not too many plans, but just the right touch of romance! You and your love will be changing course or making adjustments. Spin the dial on lifestyle and come up with a tuning you prefer. Feedback or workable ideas come through friends or social contacts. Just give them time to develop.
Transit of Sun in Gemini Sign -15th June 2023 | Five Important Vaastu Related Questions Answered | Transit of Venus in Cancer – 30 May 2023 |
Virgo Weekly Horoscope | Virgo Weekly Love Horoscope | Virgo Weekly Career horoscope | Virgo Weekly Health Horoscope | Virgo Weekly Tarot Horoscope
Other Horoscopes
Free Daily horoscope | Free Monthly Horoscope
Virgo Love Weekly
Virgo Love Weekly Horoscope for Single
You'll have plenty to say for yourself at the start, but you don't want to push difficult situations too hard, as the best results will come with patient effort. Saturn is grinding his way to the end of Sagittarius, so do the business first up then make sure that your health is not suffering from overwork. It's all go in the neighbourhood mid-week, when a friendly face might turn your way. Make a new contact under the Scorpio Moon. It could be steamy! Then entertaining your new squeeze at home would be best for the randy Virgo on Saturday. It's a Sunday of funky fun under the marvellous Geminid display, as you keep yourself and friend entertained or engaged.
Virgo Love Weekly Horoscope for Attached
Your love might not know which way to turn at the start, but either way, you'll be the focus of attention. Make the most of it. Enjoy some friendly words with the neighbours midweek, especially if there have been past disagreements. Take your foot off the pedal and all things will sort themselves in time, especially if you power the new start with the Scorpio Moon as the week draws on. Enjoy the pleasures of home life and have a dinner or hold a party on the weekend to celebrate the Geminid meteor shower. Followed of course by a delicious combination, boudoir style.