Sub-period of the Sun in the main period of Saturn put R. Ashwin among top ten wicket takers in matches so far in the Cricket world Cup 2015.

Ravichandran Ashwin is India's right-arm off break bowler. Although he is an all-rounder in cricket yet his main role is as a bowler. He is a right-hand batsman.
As per his bowling style Mars and the Sun are main key planets. In addition to these the Gemini sign and the 3rd and 11th houses of his birth chart are also involved. Now let us examine these factors in his birth chart: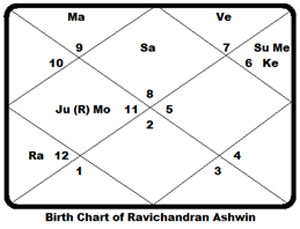 As per his birth chart planet Mars is his ascendant lord and therefore favourable for him. Mars in his birth chart occupies the 2nd house in a friendly sign. The Sun is the lord of the 10th house of profession and is favourable for him. The Sun occupies the 11th house of gains and achievements and is conjunct the exalted 11th lord Mercury. Also the Sun falls in its own constellation of Utra-phalguni. Therefore the Sun is very well placed. His Sun is very strong with Shadbala strength of 161.
The zodiac sign of Gemini in his chart is strong since its lord Mercury is exalted. The lord of the 3rd house viz. Saturn is placed at 11th place from the 3rd house and also aspects this house. Lastly the 11th house gains strength due to it being occupied by its exalted lord Mercury and the Sun.
The strength of all the key factors in his chart place him among the top ten bowlers in Cricket World Cup 2015 matches so far.
The conjunction of 2nd and 5th lord Jupiter and the 9th lord Moon in his 4th house is auspicious and wealth giving combination (Astrological Yoga) for him, but the retrograde Jupiter may be a bit unpredictable for improvement in his future ranking.