The 'Luxury Break' before the World Cup and victory over Pakistan proved a turnaround for Indian Cricket Team.

The overall credit for Indian Team's performance in the World Cup 2015 so far goes to the 'Captain Cool' M.S. Dhoni and the bowlers.
But two earlier incidents as described below, acted like a 'Magic Wand' and then success followed after success.
After the team India was dumped out of the tri-series failing to win a single match the 'Captain Cool' decided to let the team rest and recuperate in a resort in Australia. So this was a wonderful decision and filled the players with renewed energy to face the very first match with Pakistan.
Then the rejuvenated Indian team played against Pakistan and succeeded. There is a saying 'Success begets success' so this first success filled the team with high self-confidence to face other teams.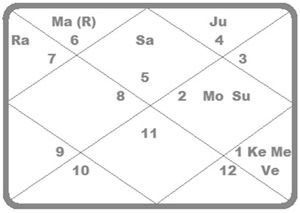 In his birth chart the ascendant lord Mercury is very well placed in the 10th house of profession. Also his 11th lord the Moon is placed in his ascendant. His Moon is exalted in his Navamsha (D/9) chart so he always keeps cool and takes right decisions.
In his horoscope the ascendant lord Mercury falls in the constellation of Mars and this gives him ability to take bold decisions.
In spite of Dhoni's unfavourable planetary period at present his cool decisions and the magnificent support of his bowlers he is spearing-ahead the team India towards probable victory in matches ahead.
Mahendra Singh Dhoni has proved that even in astrologically unfavourable periods one can be a winner by keeping cool and having faith in self and others.