Shikhar Dhawan's glorious 137 helped India beat strong South Africa. This historic contribution by Shikhar Dhawan boosts the morale of Indian team.

Shikhar Dhawan born on 5th December 1985 is an Indian international cricketer. He is a left-handed opening batsman and occasional right-arm off break bowler.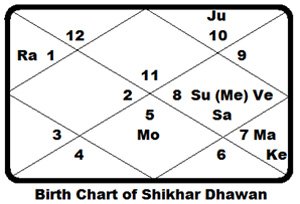 For his birth chart of Aquarius ascendant sign Mars is a favourable planet and as lord of the 10th house (Square house) it is placed in the 9th house (Trine house) of luck. So Mars is favourable planet for him and it also signifies impulsive strength and energy required for good batting.
Mars falling in its own constellation (Chitranakshatra) makes it more powerful. For good batting his natal Moon falling in the favourable planet Venus gives him a relaxed mind.
He is currently the leading run-scorer of the 2015 Cricket World Cup.On 22nd February 2015 he was running the sub-period of Mars in the main period of Mars. So for his best performance credit goes to the planet Mars. At that time Mars was transiting over the Libra sign and Chitranakshatra, over his natal Mars.
Dhawan made his One Day International (ODI) debut against Australia in October 2010 at Visakhapatnam during his sub-period of Mercury in the main period of Moon.His Mercury falls in the nakshatra of his ascendant lord Saturn.
He was the leading run-scorer and the Man of the Tournament of 2013 ICC Champions Trophy in England, which India won. In August 2013, during the sub-period of Venus in the main period of the Moon, he recorded the then second highest individual score in a List A match when he scored 248 runs off 150 balls.
He was born on 5th December and as per the Sun signs he is Sagittarian. The lord of Sagittarius sign is Jupiter which gives him good judgement for right batting.
His date of birth number 5 is governed by Mercury which in his birth chart is the lord of the 5th house of Sports. His Mercury falls in the nakshatra of his favourable planet Venus.