Birth Chart Directions – Do you know that the birth chart has relation to the geographical directions? Knowledge of this aspect will help you in relating your birth chart to the Vaastu principles.
Daily Horoscope
Weekly Horoscope
Monthly Horoscope
Yearly Horoscope

There are twelve houses in a birth chart starting with the 1st house also called the ascendant. As the ascendant represents the zodiac sign which is rising in the eastern horizon at the time of birth therefore this house represents the east direction. And by convention the house exactly opposite viz. the 7th house represents west and the 4th and 10th houses represent north and south respectively.
Other Horoscopes
Free Daily Horoscope | Free Monthly Horoscope
Free Yearly Horoscope | Free Tarot 2022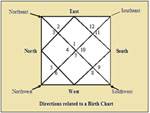 The rest of the houses correspond to the directions as listed in the table below:
| House Of Birth Chart | The direction it represents |
| --- | --- |
| 1st or Ascendant | East |
| 2nd | Northeast |
| 3rd | Northeast |
| 4th | North |
| 5th | Northwest |
| 6th | Northwest |
| 7th | West |
| 8th | Southwest |
| 9th | Southwest |
| 10th | South |
| 11th | Southwest |
| 12th | Southwest |
In a birth chart based on the sign falling in the ascendant the rest of the signs in sequence fall in the remaining houses. So each house is represented by the lord of the sign falling in it. But in vaastu the planetary lords for each direction are fixed as shown in the table below:
Astrology of the Day | Tarot of the Day | Monthly horoscope | Tarot Monthly
| Direction of a Plot of Land | Lord Planet |
| --- | --- |
| North | Mercury |
| Northeast | Jupiter |
| East | Sun |
| Southeast | Venus |
| South | Mars |
| Southwest | Rahu (North node of Moon) |
| West | Saturn |
| Northwest | Moon |
• Planets Mars and Saturn associated with the 6th house.
Weekly Astro Horoscope | Weekly Love Horoscope | Weekly Career horoscope | Weekly Health Horoscope | Weekly Tarot Horoscope
The above information can help you relate your birth chart with the Vaastu of your place of residence.
Just as an example suppose in your birth chart the 2nd house is afflicted then you must be careful in keeping the Northeast direction of your premises defect free.
You can check out our articles on Vaastu for home, Vaastu for factories, vaastu principles and vaastu tips.
Article by: Jyotirvid Pawan Kumar
Jupiter (Guru) sets in Pisces – 28 March 2023 | Chaitra Navratri 2023 – Worshipping the nine manifestations of Goddess Durga | Fasting in Navratri – Chant JAI MATA DI nine times |