Her Venus falling in Bharni constellation in Aries sign reveals her 'moral virtue' through her famous dialogue "Thappad se darrnahilagtasaab, pyar se lagtahai." (I am not afraid of a slap but of love)..

Sonakshi is the daughter of legendary Indian actor Shatrughan Sinha. She was born on 2nd June 1987. "Khaamosh" means 'Be Silent" and it was Shatrughan's famous dialogue.
A Voluptuous Cute Lioness
With her ascendant falling in the Leo sign and in the constellation Magha of Ketu she has acquired a cute, sensuous and outspoken disposition like that of a well-mannered lioness.
Her natal Moon falling in the constellation Ashlesha of Mercury has given her an ingenious and sharp mind, her Sun falling in the constellation Rohini of Moon gives her cordial, well-mannered and sympathetic nature as well as attractive good looks.
In the age of size-zeros her Jupiter falling in the watery sign of Pisces along with Rahu gives her a voluptuous body.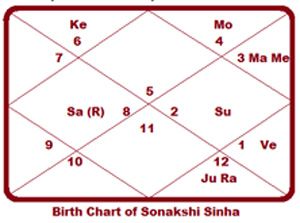 In 2008 during the sub as well as the main period of Venus she started her career as a model and walked the ramp in the Lakme Fashion week. Her Venus falling in its own constellation viz. Bharni is very strong and appropriate for pleasurable pursuits connected with entertainment and fashion industry.
She got her break in movies in 2010 during the sub and main periods of Venus after being signed up by Salman Khan for his thriller 'Dabangg'.
Sonakshi Sinha's family hails from Bihar, but she says at heart she's a Punjabi! In a tweet regarding her song 'Punjabi Mast' for her forthcoming film 'Action Jackson' she says that her eating habits resemble those of Punjabis.
In her chart the 2nd lord Mercury is conjunct Mars and her Moon falls in the constellation of Mercury so this gives her a taste and liking for spicy Punjabi food.
"I have played small town girl in many of my films but I never felt typecast because I think my Indian-ness is my strength. You put me in any state and I will become a part of it. I believe it is my biggest strength," she said. Her adaptable nature is because of her ascendant lord the Sun falling in the versatile constellation Rohini of Moon.
Although she refuses to act in films with kissing scenes and vulgarity, yet she has an impressive record of seven releases – five of them box-office hits– so far in her career. Her strict moral sense is due to her Venus falling in its own constellation of Bharni and Moon falling in the constellation Ashlesha of Mercury.