His Jupiter occupying the 7th house may proveduring its main period a turning point in his career after his marriage. Instead of his usual bat and ball, Raina has a headphone and microphone and has sung a song "Tu Mili Sab Mila"(After meeting you I got everything…) for the Bollywood film 'Meeruthiya Gangsters'.……

As a cricketer Suresh Rainahas played as a left-handed middle-order batsman and an occasional off-spin bowler. For a batsman planets Jupiter, Moon and Mars are the key significators in addition to the 3rd house and the zodiacal sign of Gemini.
In his birth chart Jupiter being the lord of the 5th house of sports is conjunct Mars. Jupiter aspects the Gemini sign in the 11th house which makes him a left handed batsman.
From 3rd April 1997 till 3rd April 2015 he was running the main period of Rahu. Although Rahu in his chart represents the key planet Jupiter, yet it is placed in the 8th house of uncertainty. Because of this period of Rahu he could not achieve as much success as a cricketer as he was capable of.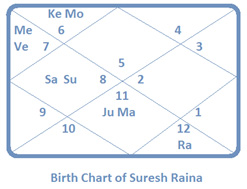 The Main Period of Jupiter is proving a Turning Point
He got married on 3rd April 2015 during the last day of his main period of Rahu. From 4th April 2015 he has entered the main period of Jupiter. For singing talent planets Venus, Mercury plays a key role as well as the 2nd, 3rd and 5th houses.
In his birth chart the 2nd lord Mercury is conjunct the 3rd lord Venus in the 3rd house. This conjunction gives him a melodious voice.
The 5th house lord Jupiter aspects his ascendant as well as Mercury and Venus and the 3rd house. Hence the period of the 5th lord Jupiter brought a turning point in his career through singing.
During this main period of Jupiter along with singing he may still excel in cricket with better opportunities as Jupiter is a key planet for a batsman as mentioned earlier.
Let us wish him good luck on his birth anniversary on 27th November.
Article by: Jyotirvid Pawan Kumar