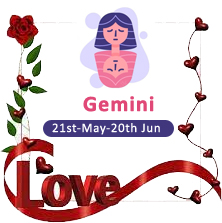 Gemini Love Weekly Horoscope will give a good insight in your love life whether you are single or attached. Gemini is a very calculative sign, to watch everything in their own perspective. Let's find out how will you advance this week in your romantic life. Very easy to understand and in plain language.
Gemini Love Weekly Horoscope 29 May 2023 – 04 June 2023Gemini Love Weekly Horoscope for Single
The week starts with a whirl of activity and communications though you still may not get the results or responses you want. Some things will need extra effort or patience. Watch health and energy at first. It's important to clear the air, as past issues, especially connected with foreign affairs and cultural pursuits, are revived in weeks ahead. Pay attention to body language and things that go unsaid. Romance or lifestyle concerns come back with a vengeance on the weekend. Step back from primary situations and wait. The ultimate ego satisfaction may come through a male or from being in competitive or aggressive situations. Don't sit around waiting for things to happen. Put yourself out there in different situations, participate, and circulate among a wide variety of people so that you'll attract the right opportunity.
Gemini Love Weekly Horoscope for Attached
You may be waiting on news or developments that seem to be taking forever to come. Just give it more time. In the meantime, take care of yourself. Keep up with communications or responses. Take a time out for some domestic bliss with your loved one. Try a hot bath, tasty food and horizontal pleasure. You may need to talk over concerns about a friend or a project, or hear from an old contact out of the blue. Get out and about on Friday, giving yourself a change of scene and getting some fresh air at the same time. Mercury in your third house urges you to enjoy a shopping trip, especially if you can combine it with a social event such as meeting a friend for lunch. The weekend will be ideal for you and your love, deepening your interest in matters horizontal and dare I say, kinky? Keep a copy of the Kama Sutra open by the bedside and send the kids off to their Gran's.
Transit of Sun in Gemini Sign -15th June 2023 | Five Important Vaastu Related Questions Answered | Transit of Venus in Cancer – 30 May 2023 |
Monthly 2023 horoscope
Other Weekly Horoscopes
Gemini Weekly Horoscope | Gemini Weekly Love Horoscope | Gemini Weekly Career horoscope | Gemini Weekly Health Horoscope | Gemini Weekly Tarot Horoscope
Other Horoscopes
Free Daily horoscope | Free Monthly Horoscope
Gemini Love Weekly
Gemini Love Weekly Horoscope for Single
Your personal popularity is high, with a potentially marvellous development early in the week, under the charming Libran Moon in your house of romance. Wednesday sees strange conflicts with friends or associates over money and perhaps ethical issues, but later in the week, sensual pleasures, feasting at local shows and the like are there. Get out and mingle this week, Gem. You'll be in demand. Write your thoughts down if you get a chance. Let the poet in you thrive! The Scorpio Moon as the week progresses promises a new start in the work environment, where an attraction may blossom. The weekend is promising for a solid commitment and Sunday sees the opportunity for love and self-expression under the glorious Geminid meteor shower. Stay home and share it with someone close, or catch up with FB.
Gemini Love Weekly Horoscope for Attached
Get into the groove with your loved one at the start, doing the things you both enjoy. The Moon in Libra is adding a touch of romance! From love life to financial life is a bit of a drop in mood, but that's the step to take midweek. Check the bills, do the sums and make sure you're organised to keep the business ticking over. On the weekend there'll be fire in the air or steam rising. Head for the boudoir and enjoy a little horizontal therapy. Remember to enjoy stargazing with your love under the glorious Geminids, the annual meteor shower on Saturday and Sunday night.