This article views through the window of Astrology former Pakistani Cricketer Imran Khan's short stays at his marital pitch.

The former Pakistani cricketer Imran Khan was born as Imran Khan Niazi on 25th November 1952 at Lahore in Pakistan.
Both Marriages during Periods of Retrograde 8th Lord Mercury
He married his first wife Jemima Goldsmith on 16th May 1995 during the sub-period of Venus in the main period of Mercury. The marriage ended in divorce on 22nd June 2004 during the sub-period of Jupiter in the main period of Mercury.
He married again to the British-Pakistani-Journalist Reham Khan in January 2015 during the sub-period of Mercury in the main period of Ketu and has now divorced her on 22nd October 2015 during the sub as well as the main periods of Venus.
Retrograde Mercury as 8th Lord caused his short Stays at Marital Pitch
In his birth chart the 8th lord Mercury is retrograde and aspects his 7th house of marriage.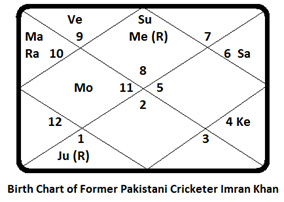 Venus as the lord of the 7th house of marriage is depositor of retrograde Jupiter which occupies the 6th house of troubles and difficulties.
Venus is the main significator of marriage and in his case the planet governing the 7th house where as the retrograde Mercury as the lord of the 8th house has been responsible for both divorces.
The exalted ascendant lord Mars is conjunct Rahu in the 3rd house and his natal Moon falls in the constellation (Nakshatra) of Rahu.
Because of these indications he is quick tempered, possessive, stubborn, self-destructive, suspicious and intolerant.
Article by: Jyotirvid Pawan Kumar