He is a Hero in true sense and this was rightly expressed by his own party MP,Shatrughan Sinha.

Kirtivardhan BhagwatJha Azad popularly known as Kirti Azad was born on 2nd January 1959 at Purnea in Bihar. He is a former Indian cricketer who played in 7 Tests and 25 ODIs from 1980 to 1986.He was an aggressive right-hand batsman and a swift off-spinner.
An Honest, Righteous and Truthful Person
His ascendant lord Mercury falls in its own constellation (Nakshatra) of Jyeshtha. This made him a practical, spontaneous and knowledgeable person. His natal Moon falls in its own constellation of Hasta. Because of this he is industrious, full of energy and courageous. His natal Sun falls in the constellation Poorvashadha governed by Venus. As per his birth chart Venus is an auspicious planet and governs his 2nd and 9th houses. As the lord of the 2nd house Venus gives him truthful speech and as the lord of the 9th house it makes him righteous, honest and lucky.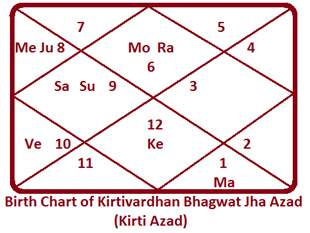 Kirti Azad entered the Political world during the main period of Jupiter, as per his horoscope.He is currently serving his third term in the Lok Sabha (Indian parliament's House of Commons). He won the 2014 Lok Sabha Elections as BJP, MP from Darbhanga (Bihar) during the sub-period of Mars in the main period of Saturn. Both Saturn and Mars also represent the malefic 6th and 8th houses in addition to other two houses. So his entry into the current Lok Sabha was under unfavourable and problematic astrological conditions.
Sub-Period of Rahu Lands him in Unjustified Troubles
Kirti Azad is running the sub-period of Rahu in the main period of Saturn since October 2014 and it will last till August 2017.
Rahu falls in the constellation of the malefic 3rd and 8th lord Mars. Also Rahu is under aspect of the 6th lord Saturn. So he is at present under unfavourable astrological conditions.
Political Prejudice at its Peak
All party leaders give clean chit to Arun Jaitley while charge Kirti Azad with anti-party activities. The truth as observed by all honest people is that Kirti Azadhas done nothing against his party. He only voiced his concern about the corrupt practices in DDCA (Delhi and District Cricket Association).
Arun Jaitley who headed DDCA cannot be given a clean chit until a fair and independent investigation is conducted and concluded.

We shall see him Emerge Glorified from The Fires of Persecution
Kirti Azad's horoscope promises his clean emergence in due course from the political trap created by selfish leaders. The day is not far when people will openly praise him for his honesty and integrity. He is a Hero in true sense and this was rightly expressed by his own party MP Shatrughan Sinha.

Article by: Jyotirvid Pawan Kumar