Lana Parrilla the 'Evil Queen' of TV series 'Once upon a Time' is blessed with a power to keep her audience spell bound. The article reveals the astrology behind her powerful personality.

Lana Parrilla is an American actress. She is best known for her roles on television and radio. She was born on 15th July 1977 in Brooklyn, New York (US).
In February 2011 she was cast as Mayor Regina Mills 'The Evil Queen' in the ABC adventure fantasy drama"Once Upon a Time," Through her role Lana Parrilla has cast a spell on audiences.
The pilot episode was watched by 12.93 million viewers and achieved an adult 18–49 rating and generally favorable reviews from critics.
In 2012 and 2013, she was regarded as a promising contender for an Emmy Award in the Outstanding Supporting Actress in a Drama Series category.
Astrology of Lana Parrilla's Spell Casting Power
In her birth chart there is a unique combination of 5th and 8th lord Jupiter, 3rd and 10th lord Venus and 4th and 9th lord Mars. So the lords of her 5th house of acting and the 9th house of luck are conjunct in the 10th house of profession with the 10th lord. In her chart Jupiter falls in the star constellation of Mars and Mars falls in the star constellation of her ascendant lord the Sun. Influence of Mars and Jupiter on the 3rd lord Venus gives her power to cast a spell on her audience through her bold performances. This conjunction further adds to her spell casting power due to the aspect of Rahu.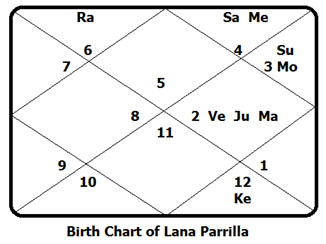 In 2011 her role as 'The Evil Queen' in the series 'Once upon a Time' was power packed due to the sub-period of Jupiter in the main period of Saturn.
Article by: Jyotirvid Pawan Kumar