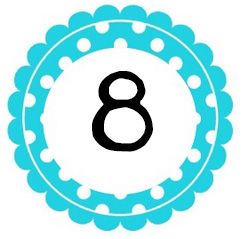 Numerology Number 8 analysis which will cover Challenges, Life Path, Expression, Soul Urge, Dreams Interpretation for the coming years and Numerology for 2016.
Challenges Number 8
The challenge of the number 8 suggests an early life assumption that satisfaction can only be gained and safeguarded by adequate material accumulation. There's likely to be considerable effort exerted to attain money, status, and power, sometimes to the exclusion of almost all else.
The number 8 challenge indicates that you are/were using your concern with material matters with negative emphasis. You must learn to use your ability to gain money, status and power with a sense of proportion and an awareness of the relation of material affairs to other matters, and deal with the material world in a comfortable manner. –
Dream Interpretation Number 8
You dream of success in the business or political world, of power and control of large material endeavors. You crave authority and recognition of executive skills. Your secret self may have very strong desire to become an entrepreneur.
Expression Number 8
our Expression is represented by the number 8. The 8 Expression is well-equipped in a managerial sense. You have outstanding organizational and administrative capabilities. You have the potential for considerable achievement in business or other powerful positions. You can expect to receive the financial and material rewards. You have the skill and abilities to establish or operate a business with great efficiency. You have good judgment when it comes to money and commercial matters, and you understand how to build and accumulate material wealth. Much of your success (or lack of it) may come due to your ability (or inability) to judge character. With the number 8 Expression, you exercise sound judgment in most of your affairs; you are realistic and practical in your approach to business matters.
The positive 8 Expression produces individuals that are very ambitious and goal-oriented. If the 8 energy is not in excess in your makeup, you will no doubt express these traits to some extent. No one has any more energy that a person with the 8 Expression who has a plan laid and is starting to work. No one has any more self-confidence, either. If you are expressing the positive qualities of 8, you are an outstanding manager because you can plan, initiate, and complete projects; you are very dependable and determined.
As it always happens, there can be too much of a good thing. If you have too much of the 8 energy in your makeup, you may express some of the negative attitudes. A negative 8 can be very rigid and stubborn. Ambition sometimes has a way of becoming over-ambition, and you may express an unreasonable impatience with the lack of progress. If your negative side is showing, you may be too exacting, both of yourself and of others. Sometimes this can even becomes a case of intolerance.
The number 8 is very materialistic and also very desirous of status and power. Neither of these drives are inherently negative unless they are taken to an extreme. You must avoid the tendency to strain after money, material matters, status, or power, to the detriment of the other important factors in your life.
Lifepath Number 8
With the Life Path of the number 8 you are focused on learning the satisfactions to be found in the material world. The Life Path 8 produces many powerful, confident and materially successful people. You are apt to be very independent, forceful and competitive. Your routine is involved in practical, down-to-earth affairs, and there is relatively little time for dreams and visions.
You will want to use your ambitions, your organizational ability, and your efficient approach to carve a satisfying niche for yourself. Most of your concerns involve money and learning of the power that comes with its proper manipulation. This Life Path is perhaps the one that is the most concerned with and desirous of status, as an accompaniment to material success. If you are a positive 8 you are endowed with tremendous potential for conceiving far-reaching schemes and ideas, and also possessing the tenacity and independence to follow them through to completion. In short, you are well-equipped for competition in the business world or in other competitive fields of endeavor. You know how to manage yourself and your environment. You are practical and steady in your pursuit of major objectives, and you have the courage of your convictions when it comes to taking the necessary chances to get ahead.
The negative 8 can be dictatorial and often suppresses the enthusiasm and efforts of fellow member of the environment. Often, the strength of their own personality excludes close feelings for other people with whom they come in contact. Material gains and rewards often become issues of utmost importance, even to the neglect of family, home and peace of mind. Dedication to success can become an obsession. Emotional feelings are often suppressed by the negative 8, resulting in isolation and loneliness. All Life Path 8 people must avoid discounting the opinions of others.
Soul Urge Number 8
With an 8 soul urge, you have a natural flare for big business and the challenges imposed by the commercial world. Power, status and success are very important to you. You have strong urges to supervise, organize and lead. Material desires are also very pronounced. You have good executive abilities, and with these, confidence, energy and ambition.
Your mind is analytical and judgment sound; you're a good judge of material values and also human character. Self-controlled, you rarely let emotions cloud judgment. You are somewhat of an organizer at heart, and you like to keep those beneath you organized and on a proper track. This is a personality that wants to lead, not follow. You want to be known for your planning ability and solid judgment.
The negative aspects of the 8 soul urge are the often dominating and exacting attitude. You may have a tendency to be very rigid, sometimes stubborn.
Numerology 2016 Number 8
This is the ultimate year of ACTION in the cycle.
The influence for this year is accomplishment. You are likely to be more affective now than at any other time in the nine year cycle. This is the year to take advantage of any situation presented to you. Whatever you began in the 1 personal year, may now come to fruition.
Use all your available energy& take action at this time for maximum impact. If you use your good judgement during this vibration business& financial matters should flourish. You can achieve, more in your business life this year, than at any other time, in the nine year cycle. A cautionary note however, if you are signing contracts, agreements or legal documents, be sure to read the fine print or seek professional advice if you are uncertain in any area of concern.
Approach business matters with efficiency, practicality, executive ability& good judgement. Impress others with your resourcefulness& sustained effort. If possible, you should exude authority& self-confidence while avoiding an emotional& sensitive balance. Be realistic – do not act on impractical dreams or visions& keep a sense of perspective at all times. Even though your work commitments may be depleting of your energy, at times, reduce your;level of activity. You must check your health matters whenever necessary. The year ahead will pass very quickly, so make the most of it.