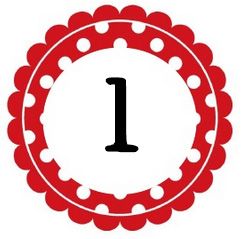 Numerology Number 1 analysis which will cover Challenges, Life Path, Expression, Soul Urge, Dreams Interpretation for the coming years and Numerology for 2016.
Challenges Number 1:
The challenge of the number 1 suggests that in these years, you are likely to feel dominated by others with strong influence, probably parents or others with whom you compete. The challenge of the number 1 is avoidance of being dominated, but doing so in a fashion that does not impose upon or dominate others.
With the challenge of the number 1 it's extremely important to control the ego, and avoid the negative aspect of individuality. False pride, pomposity, egotism are issues to be guarded against now. You are now in a period of learning about self-reliance and how to solve your own problems independently. Learn to rely on your wit and your intelligence, avoiding argumentation and resentfulness.
Dream Interpretation Number 1:
You dream of being a leader and one who is in charge. You want to be know for your courage, daring, and original ideas. You seek unconquered heights. People may get a first impression that you are very aggressive and sure of yourself.
Expression Number 1:
Number 1 Expression denotes the skilled executive with keen administrative capabilities. You must develop the capacity to be a fine leader, sales executive, or promoter. You have the tools to become an original person with a creative approach to problem solving, and a penchant for initiating action. Someone may have to follow behind you to handle the details, but you know how to get things going and make things happen.
You have a good mind and the ability to use it for your advancement. Because of these factors, you have much potential for achievement and financial rewards. Frequently, this expression belongs to one running a business or striving to achieve a level of accomplishment on ones talents and efforts. You have little need for much supervision, preferring to act on your own with little restraint. You are both ambitious and determined. Self-confident and self-reliant must be yours, as you develop a strong unyielding will and the courage of your convictions. Although you fear loneliness, you want to be left alone. You fear routine and being in a rut. You often jump the gun because you are afraid of being left behind.
The negative attributes of the 1 Expression are egotism and a self-centered approach to life. This is an aggressive number and if it is over-emphasized it is very hard to live with. You do not have to be overly aggressive to fulfill your destiny. The 1 has a natural instinct to dominate and to be the boss; adhering to the concept of being number One. Again, you do not have to dominate and destroy in order to lead and manage.
Lifepath Number 1:
The Life Path 1 drive in this life is characterized by individualist desires, independence, and the need for personal attainment. The purpose to be fulfilled on this Life Path is that of becoming independent. This is a two part learning process; first, you must learn to stand on your own two feet and learn not to depend on others. After you are indeed free and independent, you must learn to be a leader. Many of our Generals, corporate leaders, and political leaders are men and women having the Life Path number 1. The 1 always has the potential for greatness as a leader, but they may fail as a follower. Many 1's spend most of their lives shaking off their dependent side. When this happens, there is little time left for enjoying the rewards to be gained through independence. The individual with Life Path 1 has to overcome an environment in which it is very easy to be dependent, and difficult to be independent.
A person with positive 1 traits abounds in creative inspiration, and possesses the enthusiasm and drive to accomplish a great deal. Your drive and potential for action comes directly from the enormous depth of strength you have. This is both the physical and inner varieties of strength. With this strength comes utter determination and the capability to lead. As a natural leader you have a flair for taking charge of any situation. Highly original, you may have talents as an inventor or innovator of some sort. In any work that you choose, your independent attitude can show through. You have very strong personal needs and desires, and you feel it is always necessary to follow your own convictions. You are ambitious, and either understand or must learn the need for aggressive action to promote yourself. Although you may hide the fact for social reasons, you are highly self-centered and demand to have your way in most circumstances.
When the 1 Life Path person is not fully developed and expressing the negative side of this number, the demeanor may appear very dependent rather than independent. If you are expressing this negative trait of the number 1, you are likely to be very dissatisfied with your circumstances, and long for self-sufficiency. This is defined as the weak or dependent side of the negative 1 Life Path. On the strong side of this negative curve, the 1 energy can become too self-serving, selfish and egotistical. Over-confidence and impatience mark this individual.
Soul Urge Number 1:
Your Soul Urge is the number 1. With a Soul Urge number of 1, you want to lead and direct, to work independent of supervision, by yourself or with subordinates. You take pride in your abilities and want to be recognized for them. You may seek opportunities to display your strength and usefulness, wanting to create and originate. In your desire to manage the big picture and the main issues, you may often leave the details to others.
The positive 1 Soul Urge is Ambitious and determined, a leader seeking opportunities. There is a great deal of honesty and loyalty in this character. If you possess positive 1 Soul Urge qualities, you are very attainment oriented and driven to success. You are a loyal friend and strictly fair in your business dealings.
The negative side of the 1 Soul Urge must be avoided. A negative 1 is apt to dominate situations and people; the home, the spouse, the family and the business. Emotions aren't strong in this nature. If you possess an excess of 1 energy, you may, at times, be boastful and egotistic. You must avoid being too critical and impatient of trifles. The great need of the 1 Soul Urge is the development of friendliness, and a sincere interest in people.