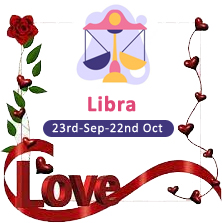 Libra Love Weekly Horoscope will give good insight in your love life whether you are single or attached. Venusian Librans are the lovers of beauty and they are natural charmers. You can find out whether this week is the right time to charm others. Ruled by Venus Librans are genuine charmers. They never leave any opportunity they get to add value to them. Find this Libra love weekly forecast and plan your future well.
Libra Love Weekly Horoscope 29 May 2023 – 04 June 2023Libra Love Weekly Horoscope for Single
Try a night out with friends to start. Anything from a group activity to a pleasant meal will do. There may be someone in authority that's giving you a hard time at the moment. Confrontations are likely. If these are nothing to do with you and you just happen to be directly in the firing line, your best bet is to make yourself scarce. But if you are responsible for their outraged feelings then you need to face the music, otherwise things will only get worse. Don't try to forge ahead or make a breakthrough. Pace yourself and listen to advice. You might want to ring them up, or send them an email or a letter. Maybe you could arrange to meet up? You'll enjoy having something nice to look forward to. The weekend is ideal for a sexy meet! Enjoy the action and the conversation.
Libra Love Weekly Horoscope for Attached
Get a handle on where you're going. You will need to discuss plans or dreams. There may be important ventures or possibilities that will gain impetus with input. Activities related to children claim your time and attention. Avoid physical aggression, as the temptation will be there to blow your top. Be aware of potential consequences of overindulgence and risk-taking adventures. There may be issues communicating with your love. Have a heart-to-heart in the midweek as the Full Moon comes on Thursday. Have a little wicked indulgence as well. Act out a secret fantasy or two. More people are open to having a good time and forgetting about their troubles for a while, so join the party! This evening you should kick back and enjoy something that is pure entertainment. Cut yourself some slack.
Transit of Venus in Cancer – 30 May 2023 | Mercury retrograde in Aries – May 15, 2023 | Sun Transit in Taurus – 15 May 2023 |
Monthly 2023 horoscope
Libra Weekly Horoscope | Libra Weekly Love Horoscope | Libra Weekly Career horoscope | Libra Weekly Health Horoscope | Libra Weekly Tarot Horoscope
Other Horoscopes
Free Daily horoscope | Free Monthly Horoscope
Libra Love Weekly
Libra Love Weekly Horoscope for Single
It starts off nicely for the single Libran, with the Moon shining in your sign. Your personal magnetism is peaking! Romantic communications are in the air, so make sure you know just what you're getting into and don't tread on any toes. However, money and friends won't mix this week, so don't be overly generous with the funds. Work up your budget to use the power of the Scorpio Moon on Thursday and Friday and then prepare for a whirlwind of activity and communication. Charge the phone, respond to emails and check the appointment diary. The weekend is funky, so invite friends and neighbours over for a get-together to share the light of the Geminid meteor display. Romance is there in your local scene, so how tempting is that!
Libra Love Weekly Horoscope for Attached
Keep a weather eye on what is going on behind the scenes, who is doing what to whom and what everyone is angling for in secret. It's a ball of love under the Moon in Libra. Get your travel and communication carefully organised, then give yourself some slow time to enjoy the pleasures of domestic bliss with your love. The midweek is all about the kitchen table, your favourite chair and the bedroom, thanks to the Scorpio Moon. Saturday and Sunday say time to party on, enjoy a brunch or celebrate the coming of the fabulous Geminid meteor display. Whatever you do, have some sociable fun, followed by some personal time. It's ideal for snuggling at home with your love.