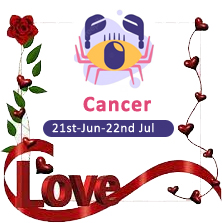 Cancer Love weekly Horoscope will give good insight in your love life whether you are single or attached. You love home and family and peacemakers of the zodiac. Get the weekly update of your love life. You are the peace lovers of the zodiac; find the possibilities in love for the week ahead. Make use of those opportunities.
Cancer Love Weekly Horoscope 29 May 2023 – 04 June 2023Cancer Love Weekly Horoscope for Single
The affairs of love, money and social action may be out of kilter. Be frugal. Watch romantic ties! Don't get involved in anything secretive. You might get very irritated by someone's funny little habits, or you could get very annoyed when someone blurts out something that was supposed to be a secret but which quickly becomes common knowledge. Many of you have either been embroiled in complicated relationships or avoiding them. It may be time to express your feelings for someone else or to listen as someone tells you what they need from you now.
Cancer Love Weekly Horoscope for Attached
It may be a testy week for you and your love. The budget may be the first cause of angst or tension. Be ready for surprise expenses. You will encounter ego-bruising opposition to what you do. Other people's opinions and actions are not likely to support your leadership, and may challenge it. Male relationships may be strained at this time — possibly by anger or too much competitiveness. Keep a low profile. -A past matter may cause further problems. A stubborn or emotional individual may bring obstructions. It may be time to express your feelings for your love or to listen to your love. Inattention, restlessness, and haste may have unpleasant consequences for you, your children, or other family members. When cooking and baking be careful to monitor the time and temperature you use, or your dish may be overdone or burned to a crisp. Check your home for possible fire hazards.
Transit of Sun in Gemini Sign -15th June 2023 | Five Important Vaastu Related Questions Answered | Transit of Venus in Cancer – 30 May 2023 |
Monthly 2023 horoscope
Other Weekly Horoscopes
Cancer Weekly Horoscope | Cancer Weekly Love Horoscope | Cancer Weekly Career horoscope | Cancer Weekly Health Horoscope | Cancer Weekly Tarot Horoscope
Other Horoscopes
Free Daily horoscope | Free Monthly Horoscope
Cancer Love Weekly
Cancer Love Weekly Horoscope for Single
The Libran Moon calls you home at the start. If you've been feeling the pressure, it's because responsibilities seem constantly in the frame. Bring a sense of integrity and negotiating skills to a situation that needs attention. Take a pause for thought at the start then leap into the week, searching out a tasty dish and the things that excite you. Mid-week sees you blossoming under a sexy Scorpio Moon. You will be at your stunning best, but stay away from jealous females under as the week ends. It's time to take a good long look at finance next, while the highlight of the weekend is the cosmic display as the Geminids blow us all away. Keep an eye on your health.
Cancer Love Weekly Horoscope for Attached
A shift is taking place in the balance of relations between you and your love. You have to take more of the weight or you'll have to deal with a sudden absence or extra responsibilities. Talk over the new structure and make necessary changes. Make some fabulous holiday plans under Thursday and Friday's Scorpio Moon, perhaps for a trip abroad, or a visit to cultural or religious structures. There's a funny feeling in the air with regard to spending though, and you'll have to make adjustments with lifestyle in order to meet altered conditions. Get the little jobs done by Saturday and look out together for the marvellous meteor shower, known as the Geminids. Then you should have a romantic Sunday, doing the things your loved one loves to do!