* Perpetual Super-Star of Bollywood*
Amitabh Bachchan popularly known as Amitabh Harivansh Bachchan is an evergreen super star of Bollywood. His 72nd Birthday falls on 11th October 2014.

Amitabh Bachchan became popular in the early 1970s for movies like Deewar and Zanjeer. He was labelled as the "angry young man" for his roles in films. He has till date worked in over 180 Indian films in a career spread over more than four decades.
Amitabh is widely regarded as one of the greatest and most influential actors in the history of Indian cinema.
Based on his dominance of Indian Cinema during 1970's and 1980's the French director François Truffaut called him a "one-man industry".
Apart from many other awards the Government of India honoured him with the 'Padma Shri' in 1984 and the 'Padma Bhushan' in 2001 for his contributions.
He made his Hollywood debut in 2013 with 'The Great Gatsby', in which he played a non-Indian Jewish character, Meyer Wolfsheim.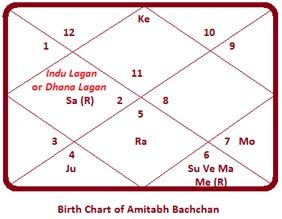 The mystery of his great success and wealth was revealed only through a special Lagana or a strategic astrological ascendant called Indu Lagan which was also called the Dhana Lagan (Wealth giving Ascendant) by the great Indian astrologer the late Dr.B.V.Raman.
His Dhana Lagan or Indu Lagan falls in the Taurus sign in the 4th house of his birth chart. And as per its principles as revealed by Dr. Raman the periods of planets at square or trine positions from this Lagan or those aspecting it give wealth and success during their periods. And those planets which are at 3rd, 6th, 8th or 12th places from this Lagan give loss of money or undue expenses during their periods.
During 1970's and 1980's he was under the main period of his ascendant lord Saturn. Saturn in his chart is retrograde so it becomes more favourable to him.
Between the years 1984 to 1987 during the Sub-period of Rahu in the main period of Saturn he was attracted to Politics.
During the main period of retrograde Mercury he faced a dire slump in his career.
Presently he is running the main period of Venus which will last till 2034. Venus for his chart is a Yogakarak planet. So in terms of finance and career he will have a good time.