Mithun Chakraborty, also known as Mithun Da, is an Indian film actor, singer, producer, writer, social worker, entrepreneur and a RajyaSabha Member of Parliament (MP).….

Mithun Chakraborty was born as Gouranga Chakrabortion 16th June 1950 in Barisal, Bangladesh.
He earned his degree in chemistry from the Scottish Church College in Kolkata. In his chart Sun, Moon and Venus signify his interest in chemistry. Both Sun and Moon fall in the constellation of Mars and Venus is the depositor of Mars.
Mars in his chart is connected with the 4th house of education and 11th house of achievement.
The 3rd lord Sun and Mercury give him interest in writing.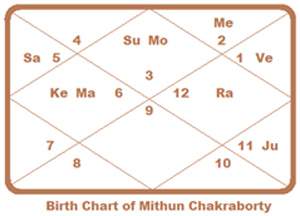 As Venus signifying acting in films and TV aspects its own viz. the 5th house, his performance in this film earned him lots of appreciation and awards.
In 1978 during the sub-period of Venus (significator of love and marriage) in the main period of Jupiter (the lord of the 7th house of marriage) he married Yogita Bali.
In 1980 during the sub-sub-period of Mars in the sub-period of Moon in the main period of Jupiter he fell in love with the actress Sridevi. The 5th house represents his love affair and his 5th lord Venus is the depositor of Mars and the 5th house cusp falls in the constellation of Mars. Because of the 7th lord Jupiter he soon forgot Sri Devi and returned back to Yogita Bali.
His breath taking role came finally in the musical drama film, 'Disco Dancer'. It was in the year 1980, in the sub-period of the Sun in the main period of Jupiter. As per his chart Sun falls in the constellation Mrigshira of the 11th lord Mars. It was energy and inspiration of Mars which has blessed him with dancing skills.
The constellation Mrigshira is responsible for his witty, quick and sharp actions and unbound passion and energy.